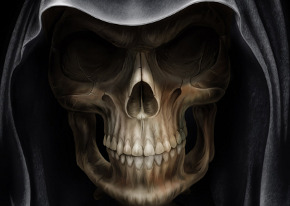 Grim Reaper Dream: Interpret the Meaning
A Grim Reaper character can appear in dreams to give a stern warning or symbolize something related to death, such as fear of it or flirting with it.
As with all dream symbolism, the meaning depends on the context and how you react. If the sight of the Grim Reaper strikes fear into you, the symbolism is more likely to be related to a fear related to death, mortality, or making a big mistake. But also consider the implications if you aren't afraid of Grimmy.
For example, a man dreams he's in a store and takes out the trash. On his way back he sees the Grim Reaper and, unafraid, strikes up a conversation. Grimmy loses the hood and scythe and now appears as a normal man. The dreamer starts making smart-ass remarks, and Grimmy says, "Why do you mock me?" The question makes the dreamer uncomfortable so he tries to go back into the store, but Grimmy grabs his arm and asks more forcefully, "Why do you mock me?" The dreamer doesn't have an answer. Grimmy laughs sardonically and says, "Go grab some beer so I can cook with it!"
The clues that reveal the meaning of this dream are in plain sight. A store is connected with making choices. Taking out the trash is connected with throwing something away—in this case, the dreamer's life. The night before the dream, he went to a bar, had a few drinks and drove home. He didn't feel too buzzed, but in the back of his mind he knew he was taking a risk. Basically, he mocked death, and that explains his action of mocking the Grim Reaper. The Reaper's comment about getting more beer to cook with symbolizes the dreamer's perception about his flippant attitude toward the dangers of drinking and driving. It's a very dramatic way of making the point, so next time he's in the same situation he'll take a cab or something.
See for yourself at reddit.com: The Angel of Death visited my dreams last night.
Death can mean the end of a relationship or time of life, or loss of something important, and the Grim Reaper can embody it in one image. To be symbolized as Grimmy, the end or loss is probably dramatic. Dreams choose symbols carefully to match with the dynamics of a situation and your feelings about it.
The Grim Reaper in a dream can symbolize rejected, repressed or estranged aspects of yourself. They take on strange, distorted, and frightening form in dreams, representing the strained relationship you have with yourself.
Also consider the "grim" part. In the image of the Grim Reaper you could be seeing a pessimistic, gloomy, or morbid side of yourself.
That's how you interpret the meaning of a Grim Reaper dream.
See also:
Interpret Dream about Afterlife: Meaning of Afterlife Dreams