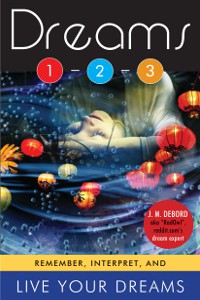 A complete introduction to working with dreams and using them for your benefit
About the Book
You've got the best life coach imaginable talking to you in your sleep.
"Dream work is a very personal process. There is no Rosetta Stone for interpreting dreams, no universal meaning for every dream symbol," J.M. DeBord, aka "RadOwl" the reddit.com dream expert. But don't let that scare you. With a few simple tools, you will soon be on your way to discovering just how much specific, guiding wisdom is packed into your dreams.
This groundbreaking book takes you step-by-step through the process of learning the language of your dreams. It is a language like any other. It has nouns (characters and settings), verbs (actions and your reactions), and adjectives (symbols and feelings). At first you may only catch the simple words and phrases, then whole sentences and paragraphs, but soon enough you will get all the subtext, humor, irony, and slang. You will not only understand the language but speak it fluently. You'll see that we dream to help reconcile with the past, handle the present, and step into the future.
Three steps: remember, interpret, and live your dreams. It's easier than you think.
Disclosure of Material Connection: Some of the links in the page above are "affiliate links." This means if you click on the link and purchase the item, I will receive an affiliate commission. I am disclosing this in accordance with the Federal Trade Commission's
16 CFR, Part 255
: "Guides Concerning the Use of Endorsements and Testimonials in Advertising."