Anima: Carl Jung's most misunderstood concept
Though Jung himself said that title belongs to the collective unconscious

In simplest terms, anima represents the feminine aspects of a male's psyche. Everything in his psyche that's traditionally feminine and unconscious such as hunches, intuitions, moods, receptivity, and capacity to love himself, summed up in one image.
Anima is a man's guide to assimilating feminine traits and the feminine principle, yin. She's also the gateway to accessing the deepest layers of his psyche. Ideally, a man is fully masculine while also embodying traditionally feminine traits. Anima is what makes him complete.
Anima can be the single most important dream character in a male's life. Ultimately, it's tied to a primary function of dreaming: to harmonize and unite the conscious mind with the unconscious mind.
Anima: his dream woman
Anima's main enticement is the promise of the best, most meaningful relationship of a man's life if he goes the distance. He gets to marry his dream girl. She can be mom, lover, wife, muse, goddess, princess and best friend all in one—but usually not all at the same time. At least, not till the end of the process.
Instead, as a male matures through his lifetime relationship with anima, she evolves. She first appears as a mother figure. When he reaches his teen years she morphs into an ideal lover. When he matures into manhood, anima matures along with him, becoming a mature and independent female. Finally, she evolves into a goddess figure such as the Virgin Mary or the Hindu's Devi, the Divine Mother. Unfortunately, it's easy to get fixated at an early stage of development and never evolve beyond it.
Recognize Anima in dreams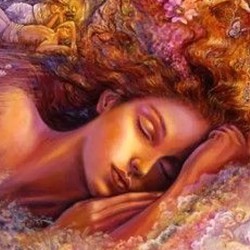 The roles anima plays are the best way of identifying her in dreams—see the list above. Anima is a recurring dream figure, appearing time and again as the same figure or as a type of figure, so keeping a journal of your dreams will help you identify her. Anima can appear in your dreams as females you know or know of, such as celebrities who embody the role, or as completely imaginary characters.
The real giveaway for identifying anima figures is they are attractive, even alluring, but also elusive. Anima generally stays just out of reach from fully grasping her, beckoning a man to continue his journey of development till the day comes when he can finally unite with her. In alchemy, that day is known as "marriage of the soul."
The form and image of anima depends on what an individual male responds to: princess, professor, mother, queen, sister, biker chick, corporate gal, librarian, runway model, temptress, Playboy Bunny, African queen, Asian beauty. She's alluring and can be powerfully attractive, but her appearance depends largely on a man's relationship with this part of himself. Oftentimes, males describe anima as appearing as if someone drew the picture of their perfect woman.
If his relationship with anima is bad, she can appear as a witch, bitch, Siren, Mermaid, nag or hag. She'll be the woman he yells at or physically assaults in his dreams, full of rage and remorse that he can't be the man she wants him to be: fully matured and comfortably masculine and feminine simultaneously.
Anima = "animated"
Anima can be thought of as short for "animated," because that's what she does for a man who lives up to her expectations—which are really his own expectations. He pleases anima when he does everything he can to mature and live fully, and in return she animates him with purpose and love.
When the relationship between a man and his anima is bad, it leads to self-destructive behaviors and even violence. He's an "addictive personality." He tends to be listless and bored—or he goes to the other extreme and lives a life of constant adventure and challenge. He never stops to ponder what's missing from his life. What's missing is the deep and meaningful relationship he can have with himself. He's moody, unbalanced, depressed, sometimes sexually uninterested—or at the opposite extreme, he's a playboy or sex addict. His tortured relationship with his inner self can bring out the worst in him. In some cultures, a man in such a predicament is said to have lost his soul.
Anima is often described in terms of soul. And indeed, a man with a good relationship with his anima is usually quite soulful. In fact, anima is a Latin word for "soul."
Anima projection — a source of trouble in a man's female relationships
It's a recipe for disaster when a male projects his anima onto women in his life and expects them to live up to that image. It's a tendency that begins in early childhood and can continue throughout his life. That man will never be happy for long with the women he tries to make into mates, lovers, or mother figures. No mortal woman can possibly live up to the anima ideal, nor should she try.
Anima dreams can be a source of confusion and relationship troubles when misunderstood as desiring someone other than your mate. Married men dream about falling in love with anima, their ideal woman, and think it means they must subconsciously want someone else.
Actually, they are called to have a special relationship within themselves. Anima isn't just a dream character, it's a relationship. Guys, respect it the same as you'd respect a soulmate or love of your life.
Anima is the main representative of a man's unconscious mind. It's why terms like "soul" are used to understand anima. Everything else falls short of capturing the beauty and dynamics.
Mother: a man's first taste of anima
Characters like anima arise from the deepest reaches of the psyche and are independent of the ego. They're archetypes. The personal expression of your archetypes is shaped through a lifetime of experience. Archetypes are blueprints that shape personality, behavior, and processes of thought and feeling. You are born with archetypes as basically rough outlines that are the same in everyone.
A male's mother or primary female caregiver is the first image given to his anima. She isn't just his mother; she's Mother, a Goddess, the giver of life. His mortal mother is used to fill in the details provided by the archetype's blueprint. Then the image is filled in throughout his lifetime by experiences with females of all types, but especially the ones closest to him.
But first … Shadow
A man's Shadow side won't let him just have his anima all for himself. He must fight for her like a knight fighting for his beloved lady in waiting, and the stakes are all or nothing. Shadow is a guardian at the gate to deeper access to a man's unconscious mind, the ultimate test that must be faced.
Read my post about animus. Animus is the female's version of anima. Anima and animus are quite similar but have essential differences. Anima can be thought of as a man's guide to his feelings and moods, and animus as a woman's guide to her thoughts and rationality. Both serve as guides to the unconscious mind.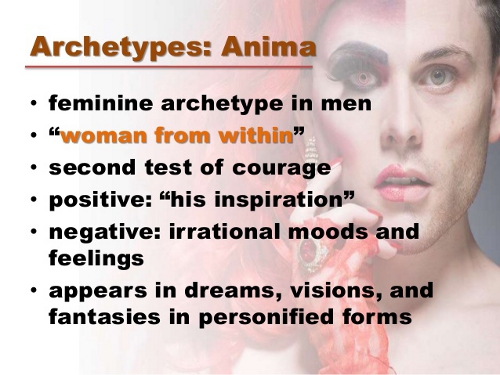 The "second test of courage" referred to above is taken from Carl Jung's writings about anima. He said that a man's first test of courage is to be aware of his Shadow. The second test is to know his anima. Remember, anima has a dark face that devours men. It's a deep and powerful force within him, and while it has potential to make him whole and complete, it can destroy him if his personality doesn't have the integrity to pass the test.
Most people can't even begin to fathom the fact that they are made of both genders. The conscious gender becomes the conscious personality. The other gender remains unconscious and forms a sub-personality.
That means, inside every man is a woman, and inside every woman is a man.
What is a penis? A vagina on the outside. What are testicles? Ovaries on the outside. Seriously. All fetuses begin life as female. All of us are made of both genders, and we are not complete until integrating everything about ourselves that is unconscious.
[To further understand the relationship between homosexuality and "soul," read my post: homosexuality as a soul experience.]
And about the collective unconscious. Yes, it's highly misunderstood, but I give the title of "most misunderstood" to anima because it's often confused with other female dream characters.